Aces and Eagles
---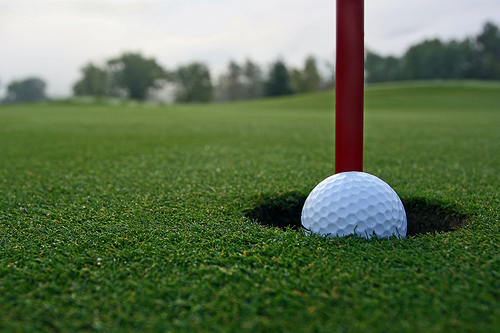 Hole-in-One Falls into The Cup
---
Welcome to Aces and Eagles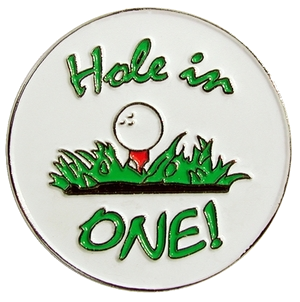 The elusive Aces and Eagles are two of the biggest reasons we keep teeing it up.
If you've ever struck a golf ball with dead-solid perfection and watched it fly high and far on your intended line then you know what keeps bringing you back. But even a perfectly struck shot seldom finds the bottom of the cup - there are just too many variables that must precisely align for that ball to drop.
Yet, for a select few the Golf Gods graced their rounds with that perfect synergistic alignment of everything that needed to go just right for their ball to go, as Happy Gilmore calls it - Home!!

---
One Amazing Ace

Take for instance the example of Richard Green's Hole-in-One Albatross at The Oates Vic Open Pro Am Tournament. Far more rare than the Par 3 Ace is the Par 4 Hole-Out in 1.

And sometimes the amazing result is an off-line shot that takes just the right bounce and roll.

Your browser does not support the video tag.
---
So if you have ever recorded an Ace you sit in rare company. And if you've got two or more Hole-in-One's then your fraternal organization is even more exclusive.
Eagles - though not as rare are still quite a feat to accomplish on the golf course. And going more than 2-under par on any one hole is a feat that commands respect and recognition.
Welcome to The-Golf-Experience.com's Aces and Eagles Wall of Fame. Here is your forum to show the world what you've accomplished.

Use the Form below to enter the details of your feat and we'll post it here for all to see.

---
Do you have a picture of the hole or one that captures the moment or the celebration? Great!!
Email that picture to info@the-golf-experience.com and we'll include it with your post to help illustrate your glory.
~~~~~~~~~~~~~~~~~~~

* Note - Make sure your name matches the Aces and Eagles submission so we put your picture on the right post.

---
Someday I'll Get One

Maybe I'll get to change this someday soon, but I have never recorded a Hole in One. Playing since 1979 and averaging 60+ rounds a year since 2000 I have scored more eagles than I could possibly count, but I have yet to drop an Ace.

In fact, I've only seen two with my own eyes and each time thought, "That didn't look so hard! What's the big Deal? Why are these dang things so rare?"  



---
National Hole in One Registry
If you really wish to take your Hole-in-One Accomplishment to the next level, you can visit the National Hole in One Registry and have your feat documented and nationally recorded.

You'll even get a Certificate for your own Wall of Fame.

---
Aces and Eagles




Submission Form
Don't forget to email your picture to info@the-golf-experience.com so we can include it with your post and help illustrate your glory.

---
Now get out there and knock down more Aces & Eagles
to fill our Wall of Fame below!

---
Options for Booking Your Next Tee Time
---
---
* Note - Submissions will be listed alphabetically by first name and last initial.

Aces & Eagles
Wall of Fame

---
Barry Wood - Age 57 - Playing for 40yrs - Index 18 - Date Played 7/18/2015 - Springdale Golf Course in Uniontown, PA 15401 - Weekly Round - Hole #1 - 330yd - Par 4 Eagle

Six Iron from 165 yards out. Ball landed on the green and rolled in, but no one in our foursome saw it go. Guy playing hole in front of us walked by and said, "Nice shot!" I said, "Thank you!" He said, "It went in!" I said, "WHAAAAAT??"


Springdale Golf Course
---
Dominick Fererra - Age 68 - Playing for 15yrs - Index 12.5 - Date Played 7/5/2019 - Hunter's Run Country Club South Course Boynton Beach, FL 33436 - Weekly Round
---
Back to Back
An Eagle & An Ace
7th Hole - Par 4 - 340yd - Par 4 - Eagle
8th Hole - Par 3 - 135yd - Par 3 - Ace
---
Hunter's Run CC South Course 7th Hole

Came to the 7th hole. Dog leg right hole & drive went 180 yards. 2nd shot had to go over trees. Using a 9 iron from 150 yards out, nailed the shot to the green. When the 4some reached the green no one could find the ball. Everyone was looking when one decided to check the hole.

"It's in the hole, you ass!", said one of our group and everyone laughed. However, the story doesn't end there ...
---
 ... the very next hole, 135 yard par 3 with the pin behind the sand trap. Took out the pitching wedge and . . . you guessed it . . . an Ace!!

My first ever Eagle followed by my first ever Hole in One - two days after my 68th birthday.

It was the talk of our Country Club community for weeks!!

Hunter's Run CC South Course 8th Hole
---
George P. - Age 63 - Playing for 37 yrs. - Index = 15.9 - Date Played 10/22/2010 - Blue Rock Springs Golf Course in Vallejo, CA - Daily/Weekly Round - Hole 11 - 153yd - Par 3 Ace
The pin was back so it was playing closer to 170 yards and I hit my 13 degree hybrid. Not my first Ace, but at 63 it may be my last.

---
Jeff Carter - Age 64 - Playing for 40+ yrs. - Date Played 1/12/2021 - Coldwater Golf Club in Avondale, AZ - Daily/Weekly Round - Hole 5 - 130yd - Par 3 Ace


9 iron to a front pin - One Bounce, Roll and in!


So, this is the very first Ace listed on our Wall of Fame that The-Golf-Experience.com was on sight to witness first hand. A smooth swing to a soft fade that bounced once, rolled slightly to the right and disappeared into the cup. Fun to watch!!

Avondale, Arizona
---
Jeffrey Peipert - Age 60 - Playing for 25yrs - Index 14.1 - Date Played 5/18/2021 - Meridian Hills Country Club in Indianapolis, IN 46260 - Weekly Round - Hole #6 - 335yd - Par 4 Eagle

A 232yd drive landed on the right side of the fairway.

From there I hit my gap wedge from 103 yards high in the air to land softly.

I watched the shot clear the sand trap on the right, landing on the green to roll a bit and then disappear.

Assuming it had rolled over the back of the green, I checked there first looking on the fringe and in the rough ... nothing! So I checked the hole and there it sat - EAGLE!!.  
---
John W. - Age 52 - Playing for 26 yrs. - Index = 6.0 - Date Played 6/15/2009 - Las Positas Golf Course in Livermore, CA - Daily/Weekly Round - Hole 4 - 173yd - Par 3 Ace
No big deal! Just took the club back and sent the ball on its way. 2 hops and short roll and I took the KP from the last guy who had just hit and thought he had a six inch winner.

---
Mark J. - Age 16 - Playing for 7 yrs. - Index = 12.2 - Date Played 7/14/2012 - Diamondback Golf Course in Haines City, FL - Vacation Round - Hole 17 - 170yd - Par 3 Ace
I was on vacation with my family and scoring a hole in one kinda made my whole trip a blast - way cool! My Dad was totally jealous - he's never had one.

---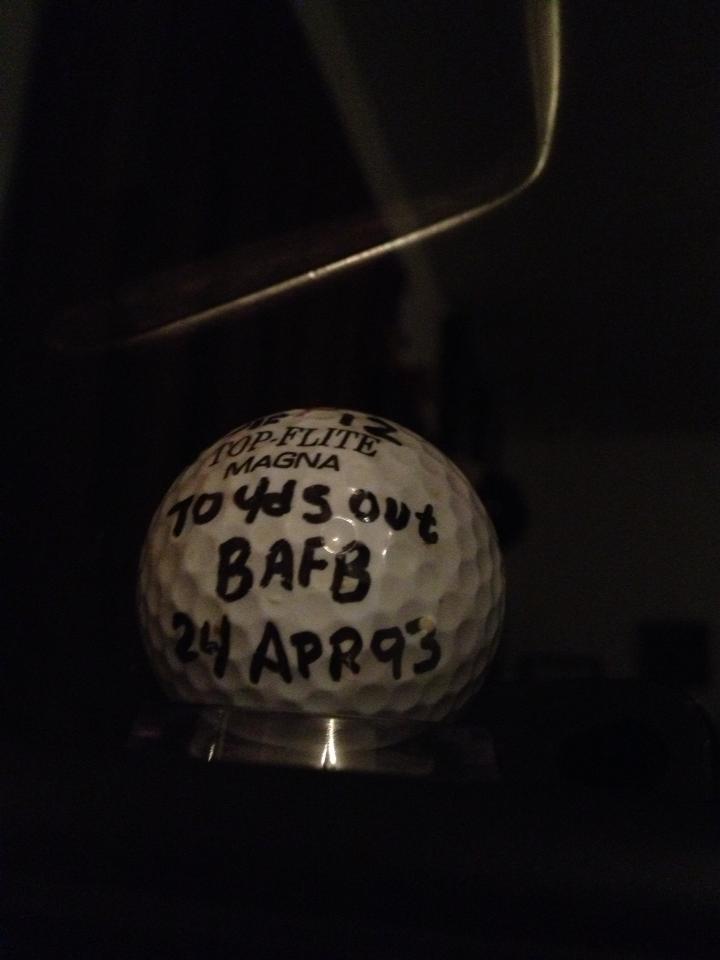 MJ Thibodeaux - Age 22 (at the time of this Eagle) - Playing for 2 yrs. (at that time) - Index None - Date Played 4/24/1993 - Fox Run Golf Course at the Barksdale Air Force Base, LA -  Daily/Weekly Round - Hole 12 - 274yd - Par 4 - Eagle
My first Eagle Hole Out came on this slight dogleg left, with the entire green fronted by a bunker. My tee shot with a 5-wood just scurried out of the fairway and under some tree limbs on the right side of the fairway. I used my sand wedge from 70 yards out and made a good swing, but as the ball rose from the shot, it went through the low-hanging branches that blocked my view of the shot. I thought for sure it was in the bunker. But as I walked to the left, I saw the ball land just over the bunker and onto the green where it then rolled right into the hole. I threw my club in the air and shouted for my victory! The guys behind me asked what what had happened and I told them I holed out. I hadn't been playing for too long, so I didn't know what the shot was called. They told me it was an Eagle. I kept the club and the ball and put them in a display case at home (pictured here).  

---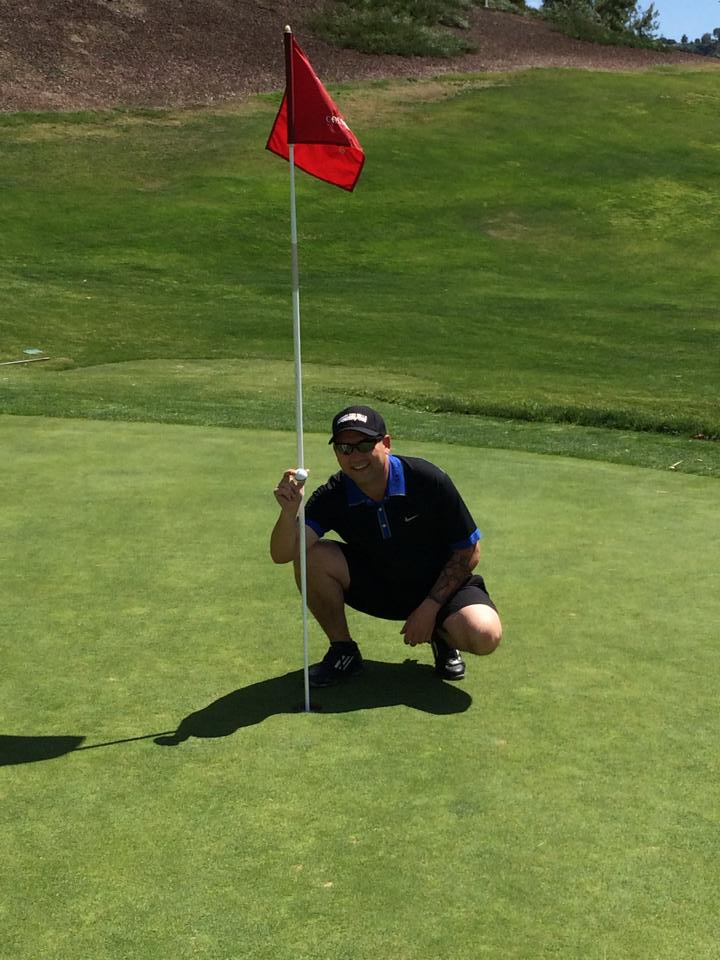 MJ Thibodeaux - Age 46 - Playing for 23 yrs. - Index 12 - Date Played 5/1/2014 - Woodland Hills Country Club in Woodland Hills, CA - Daily/Weekly Round - Hole 3 - 479yd - Par 5 - Eagle
Uphill dogleg left par 5. The tee Boxes were playing close to 500 that day. I hit my tee shot and sliced it into #1 fairway (approx. 225 yards). It was cart path only that day, so I took my 3-wood and 9-iron and made the long walk to my ball on #1 fairway. Set up, took my 3-wood swing and topped the ball about 100 yards straight up the #1 fairway at the bottom of the tee box. Dejected, I walked the 100 yards or so, took a line that I thought was sufficient (since I couldn't see the green at all - I was still not above the crest of the uphill). Took my 9-iron, hit a shot that went in the general direction of the green, and picked up my other club and walked back towards the cart path. As I'm walking back, one of the guys in my group said, "Nice shot! Great Eagle!". And you have to realize he wasn't excited at all. He was very calm when he said that, so naturally I thought he was joking with me and I said, "Oh yeah, right!". Then he told me, "No, seriously! It hit the front of the green and rolled into the cup. You holed out!" I still wouldn't believe him and I wanted so desperately to run up to the green and see for myself, but I held back. Well, when I got there I walked to the hole and sure enough , there it was in the hole. It was 157 yards, (according to my GPS), playing downhill after the crest. I have only made one other eagle in my life, (also posted here), but I was pretty stoked! I then birdied the next (back to back) par 5, but then I pretty much stunk for the rest of the round ... but I didn't care! Now, when I play that course, I ask my buddy who was there at that time as we approach the #3 tee box, "Hey! What's the best score I've ever had on this hole? I think it was a  . . . THREE!"

---
Ryan A - Age 54 - Index +1.6 - Playing for 43 yrs. - Date Played 2/23/2021 - Legacy Golf Club in Phoenix, AZ - Daily/Weekly Round - Hole 15 - 130yd - Par 3 Ace


My first ace! Little uphill par 3 with the pin in the back middle. Just a well struck smooth gap wedge & I saw a bounce, then nothing. I was plus 2 on the day and walked off the 15th green even par. Finished par, par birdie for a 1-under 70.


The Legacy Golf Club Phoenix, AZ
This is the 2nd Ace listed on our Wall of Fame that The-Golf-Experience.com was on sight to witness first hand riding with and playing alongside Ryan. A smooth swing to a soft draw that bounced once, rolled over the slight hill and disappeared from sight. I told Ryan that it could have gone in - it looked that good! Sure enough - walking onto the green we saw three balls and then the fourth just peaking out from inside the rim of the cup as it sat on the COVID-19 noodle at the base of the flag. Kudos Ryan - well done my friend!!
---
---
Options for Booking Your Next Tee Time
---
---
---
??  Your Own Website  ??
---
Is there a topic or a hobby for which you have a strong passion?
Have you ever considered turning that passion into a passive income stream?
Have you ever considered creating a web site like this one?
I researched long and hard for the best resources available on the web to assist me in making The-Golf-Experience.com a reality and I found none better than Solo Build It with whom to partner.
Above and beyond the comprehensive program they provide to assist you on your journey is the incredible level of customer service you'll get along the way. The world would be a better place if every company out there modeled the quality and level of their customer service after what Solo Build It seems to provide with such ease.

Watch the video below to see if your interest in creating your own web site gets a spark.

You ready?
Now click the "Solo Build It!" link below to begin your own journey.
Good luck and have some fun.
© Copyright The-Golf-Experience.com