Tiger Woods Quotes
---
---
Welcome to Tiger Woods Quotes
Tiger Woods Quotes pays tribute to the man who has at times dominated the game of golf like no-one else and continues to chase many of Jack Nicklaus' PGA Tour Records, including Jack's 18 Major Championships. Along the Way, Tiger Woods has set a few records of his own, and entertained legions of fans with his focused attitude and unparalleled success.
Known also for his sense of humor, Tiger Woods is one of the biggest "pranksters" on the PGA Tour, and has provided us with a number of great quotes.
Tiger Woods may have provided his most hilarious quote during the 3-Tour Skins Game played at La Quinta's Trilogy Golf Course in 2005. Fred Funk brought his playing competitors to stitches when he donned a pink skirt after Annika Sorenstam out-drove him on the third hole. But the real laughter started when they reached the green and Tiger Woods lined up opposite Fred to take a look at the line of Fred's putt. While still wearing the pink skirt Fred asked Tiger Woods what it looked like, to which Tiger replied "looks like it's one . . . no two balls out!!"
Read on for a few more Gems from Tiger Woods.
---
---
Tiger Woods Quotes
---
A golfer should never make a mental mistake because the ball is just sitting there waiting for you to hit it. tiger

---
Achievements on the golf course are not what matters, decency and honesty are what matter. tiger woods quotes tig

---
As a kid, I might have been psycho, I guess, but I used to throw golf balls in the trees and try and somehow make par from them. I thought that was fun.

---
As far as golf, one of the things my dad kept instilling in me was the joy of the game. He made it fun for me. A lot of the times I see a lot of the kids, they don't enjoy being out there and that's a shame, you're supposed to enjoy the game, it's a game, ultimately.

---
Don't force your kids into sports. I never was. To this day, my dad has never asked me to go play golf. I ask him. It's the child's desire to play that matters, not the parent's desire to have the child play. Fun. Keep it fun.

---
Hockey is a sport for white men. Basketball is a sport for black men. Golf is a sport for white men dressed like black pimps.

---
I am the toughest golfer mentally.

---
I believe that my creative mind is my greatest weapon.

---
I did envisage being this successful as a player, but not all the hysteria around it off the golf course.

---
I didn't hit one ball like that on the range. Tiger Woods to Steve Williams on the 1st hole of the final round at the 2004 PGA Championship.

---
I do plan to return to golf one day, I just don't know when that day will be.

---
I don't know if I even have an aura, man. I just try to win.

---
I get to play golf for a living. What more can you ask for - getting paid for doing what you love.

---
I love to play golf, and that's my arena. And you can characterize it and describe it however you want, but I have a love and a passion for getting that ball in the hole and beating those guys.

---
I love to play to win.

---
I want to be what I've always wanted to be: dominant.

---
I'm addicted. I'm addicted to golf.

---
My dad has always taught me these words: care and share. That's why we put on clinics. The only thing I can do is try to give back. If it works, it works.

---
My mother's a Buddhist. In Buddhism, if you want to achieve enlightenment, you have to do it through meditation and self-improvement through the mind. That's something she's passed on to me: to be able to calm myself down and use my mind as my main asset.

---
Never beat yourself up, because there are plenty of people that will do it for you.

---
Tiger, come on now, you've still got work to do. This round and golf tournament are not over. Hang in there and finish the race. Tiger Woods at the 1997 Masters.

---
You ever go up to the tee and say, 'Don't hit it left, don't hit it right'? That's your conscious mind. My body knows how to play golf. I've trained it to do that. It's just a matter of keeping my conscious mind out of it.

---
Options for Booking Your Next Tee Time
---
Thanks for visiting this page of Tiger Woods quotes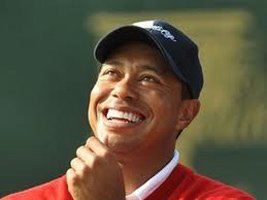 Now make sure to check out the other great pages on our site and use the "Share This Page" links below to share this site with others you think might also enjoy its content.

---
Return to The Top of Tiger Woods Quotes

---
---
---
??  Your Own Website  ??
---
Is there a topic or a hobby for which you have a strong passion?
Have you ever considered turning that passion into a passive income stream?
Have you ever considered creating a web site like this one?
I researched long and hard for the best resources available on the web to assist me in making The-Golf-Experience.com a reality and I found none better than Solo Build It with whom to partner.
Above and beyond the comprehensive program they provide to assist you on your journey is the incredible level of customer service you'll get along the way. The world would be a better place if every company out there modeled the quality and level of their customer service after what Solo Build It seems to provide with such ease.

Watch the video below to see if your interest in creating your own web site gets a spark.

You ready?
Now click the "Solo Build It!" link below to begin your own journey.
Good luck and have some fun.
© Copyright The-Golf-Experience.com